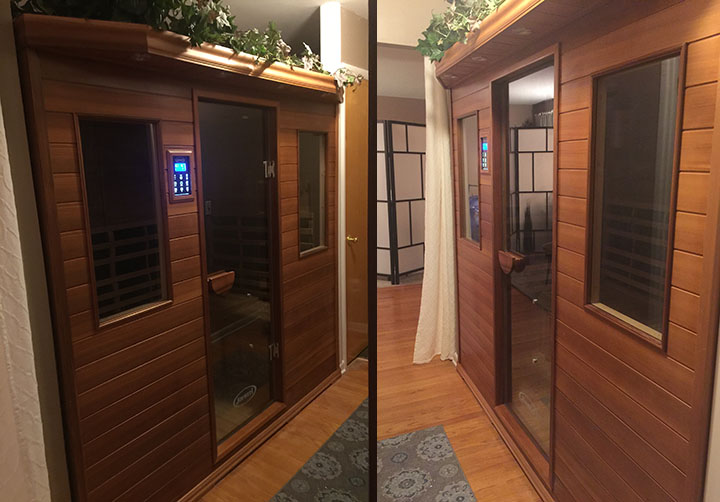 Infrared Sauna
Infrared saunas are used to help bring the body to homeostasis (balance) by relaxing and detoxing muscle and tissue. Traditional saunas heat the air in the room which then causes the body to heat from the outside in. An infrared sauna works differently by warming with light instead of heat. This allows the "heat" to penetrate the body immediately, causing a rise in core temperature, so you'll see/feel the warm, soothing effects in as little as a 15-20 minute session.


What should you expect in the infrared sauna?
We'll provide you with a couple of towels, one for the seat and the other to wrap around you. Feel free to play your music on our Bluetooth speakers while you relax in the warmth. You'll feel your body begin to unwind within the first few minutes followed by detoxification (aka sweating). Our sauna is a 5-person but there will never be more than 3 in the room. If you wish to schedule a private or 60-minute session, please call ahead.
Add some bonus health benefits by doing a float or Himalayan salt session afterward or massage just before!


What are the beneifts of infrared saunas?
Reduced stress/anxiety and overall relaxation
Muscle and pain relief
Detoxification
Weight loss
Lower blood pressure and increase circulation
Skin purification
Improved immune system and better cellular health
*Do not use infrared sauna if you a pregnant, are under the influence of alcohol, have a fever, are insensitive to heat, or are diagnosed with hemophilia.